Transportation FAQs
FAQs
Why is my child's bus late?
Weather, traffic, maintenance difficulties, and unforeseen incidents are generally responsible for delays in the arrival of a school bus in the morning and afternoon. Drivers check buses before their routes and sometimes find mechanical problems that can cause delays and require driving another bus for that day. Please know that we are doing everything possible to have all buses running on schedule everyday.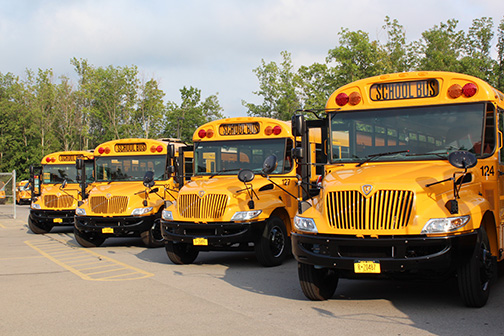 Why does my child have an assigned seat?
Seat assignments are a positive way for the ride to be consistent and safe. This aids the driver with discipline. The drivers have the authority to assign seats as they deem necessary.

Why can't my child get off wherever they want in the afternoon?
To avoid a multitude of potential problems, the driver requires a bus pass from the school to alter the destination of students. A driver cannot make the decision whether the student should be allowed to change their routine and get off with a friend or ride to an entirely different neighborhood. This must be the decision of the parent/guardian. This policy avoids confusion and the chance of students getting lost.

Could the bus stop/time change?
Possibly. As we receive new data daily on students we may change bus routes to accommodate new enrollments, changes of address, overloaded buses, and timing issues. Therefore, we expect that while bus stop locations will remain relatively constant, bus numbers and stop times may change whenever a route is adjusted.

Is there a lost and found?
No. Articles found on the bus are turned into the appropriate school building. Most times, the driver of the bus will keep items found on board for several days in an attempt to locate the owner.